A major EurAf (Europe-Africa convergence) program focus area of ISES is Turkey/Anatolia, a region with a geological history that is inevitably related to the collision between Africa-Arabia and Eurasia.

Schematic representation of evolution of slab detachment, roll-back and STEP faulting in the Cyprus arc

The proposed project focusses on the Cyprus arc region in south-central Anatolia and on Cyprus, and aims to reconstruct the Neogene deformation and sedimentation history of this largely unstudied, but geodynamically essential region. A recently proposed scenario concerning the evolution of the subducted slab in the Arabian-Eurasian collision zone and the eastern Mediterranean region suspects a combination of slab roll-back, slab detachment and STEP faulting, ultimately forming the Cyprus arc.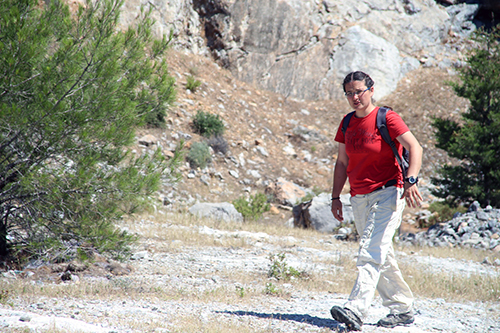 An approach integrating remote sensing, structural, sedimentary, stratigraphic and paleomagnetic (field) analysis is proposed to reconstruct the vertical, horizontal and rotational motions associated with the Cyprus arc to test and further develop the geodynamic scenarios that explain late-orogenic evolution of the closure of the Neotethyan Ocean.

This project links with many other PhD and Post-Doc research projects that are already actively studying the tectonic, paleoceanographic and geodynamic history of the eastern Mediterranean region within the contect of the ISES EurAf program.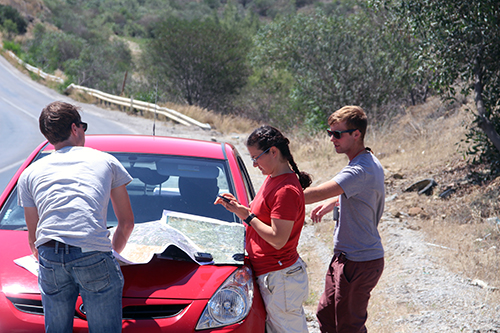 Ayten Koç and collaborators Folkert and Peter in the field


Publications of

Ayten Koç



2018
Koç, A., van Hinsbergen, D.J.J., and Langereis, C.G. (2018). Rotations of normal fault blocks quantify extension in the Central Tauride intramontane basins, SW Turkey,

Tectonics,

37

,

https://doi.org/10.1029/2018TC005112
2017
2016
Koç, A., Kaymakci, N., Van Hinsbergen, D.J.J., Vissers, R.L.M. (2016). A Miocene onset of the modern extensional regime in the Isparta Angle: constraints from the Yalvaç Basin (southwest Turkey), International Journal of Earth Sciences,

105

, 369-398.
2013

Koç, A., Kaymakci, N. (2013). Kinematics of Sürgü Fault Zone (Malatya, Turkey): A remote sensing study, Journal of Geodynamics,

65

, 292-307.
2012

Koç, A., Kaymakci, N., van Hinsbergen, D.J.J., Kuiper, K.F., Vissers, R.L.M. (2012). Tectono-Sedimentary evolution and geochronology of the Middle Miocene Altinapa Basin, and implications for the Late Cenozoic uplift history of the Taurides, southern Turkey, Tectonophysics,

532-535

, 134-155.
2010
Kaymakci, N., Inceöz, M., Ertepinar, P. & Koç, A. Late Cretaceous to Recent kinematics of SE Anatolia (Turkey), , Geol. Soc. London Special Publications, 340, 409-436.
Van Hinsbergen, D.J.J., Dekkers, M.J. and Koç, A. (2010). Testing Miocene remagnetization of Bey Daglari: Timing and amount of Neogene rotations in SW Turkey, Turkish Journal of Earth Sciences, 19, 123-156.